The Academy Canteen is run by Chartwells
At the academy, we operate a cashless electronic payment system for school meals.
Each student is issued with a unique 5 digit pin number. The pin will be issued to all new students as they start at the academy whether a new Year 7 or a Mid Term Transfer.
Students top up their cashless account using one of three Revaluation Machines sited around the school (these machines accept coins and notes). Parents/Carers can top up their child's cashless account via ParentPay.
To use the pin account students select their food from the serveries and enter their pin number at the till where the cost of the selection will be deducted from their account.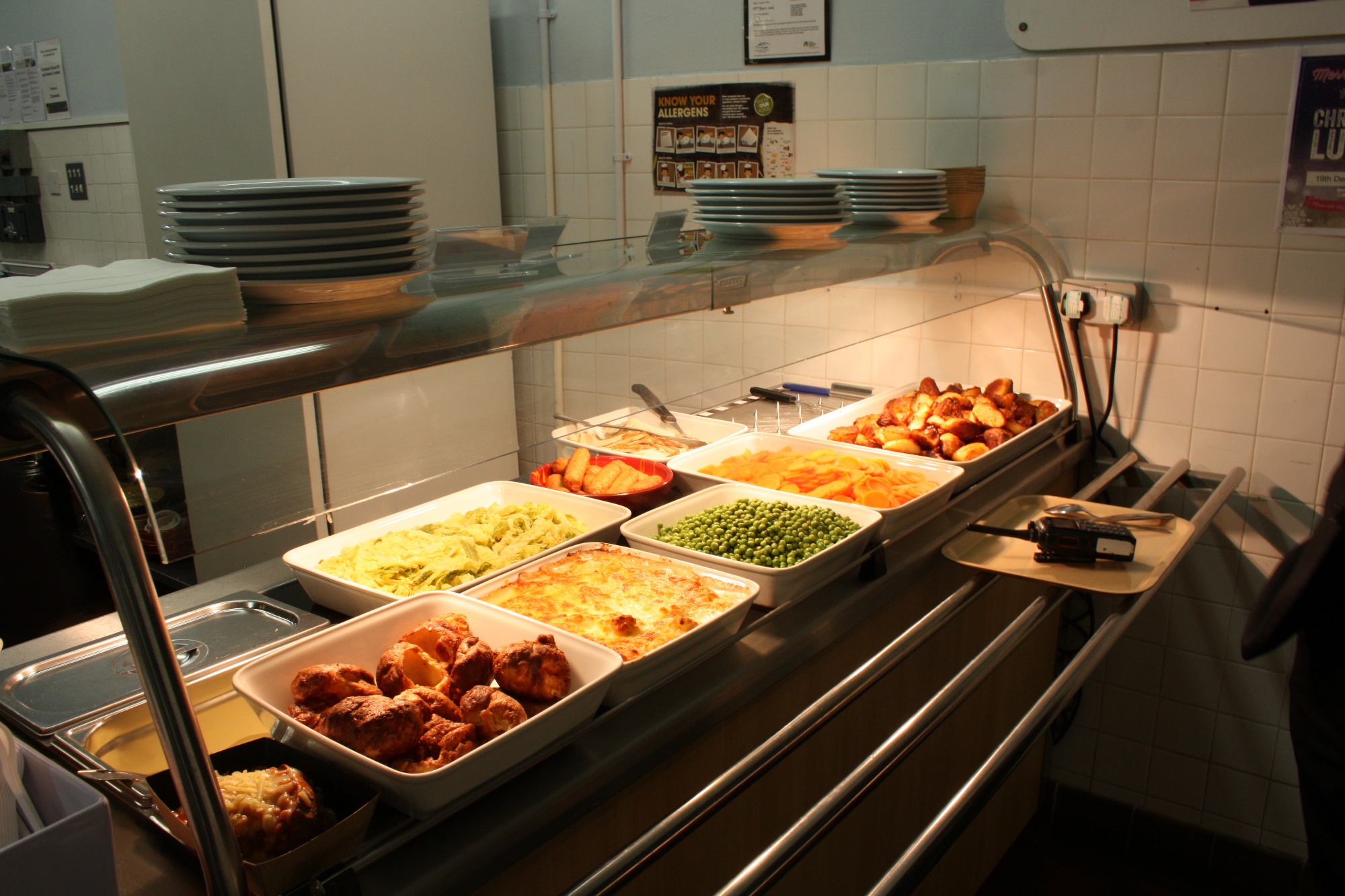 Queues move more quickly in the Dining Hall, thus reducing the waiting time for students.
You will be able to ensure that your child is spending lunch money on food from the college (and for this reason the school does not give change to students, e.g. we will not change down a £5 note if requested)
Students receiving free school meal entitlement will be indistinguishable from those paying for their meals. This hopefully will encourage more parents to apply for free school meals and support those students who are reluctant to use their entitlement.
By using the option to pay by ParentPay, Parents/Carers can avoid the risks of loss and theft associated with students bringing cash into school.
You will be able to support your child in adopting healthy eating habits by monitoring their diet.
Students whose accounts are credited for longer periods can be encouraged to develop good habits of financial management.
Students entitled to free school meals will have their account credited daily to the current value of a free school meal, in line with the cost of the 2-course meal of the day. The County Council reviews this value regularly.
We hope that this will encourage more parents to take advantage of their free school meal entitlement. Please see details below of how to apply for free school meals. Students entitled to free school meals may add further credits to their account via ParentPay or by using the Revaluation Machines. Please note that any daily free meals' credit not used will not be transferred.
Refunds will only be given in exceptional circumstances, such as a student leaving the academy. Students will be asked to complete an "Application for Refund" form, available from Reception and return it to Reception once complete. We would ask that you give at least two days' notice to ensure prompt payment.
Students who have forgotten or suspect that their pin number has been compromised should visit the ICT Admin Office for a reminder of the old one or a replacement.
Should you have concerns about how the account is being used and wish to monitor expenditure or diet, you may ask for a record of how your child's account has been used. You will be given details of money credited and purchases made.
This service is provided on special request - you will be asked to complete a "Request for Activity Record" form available from Reception, which should be completed and returned to Reception, together with a £2.00 fee (This covers administration costs).
Activity Report
Forgotten/Lost Pins
Vending Machine
Refunds
Free School Meals
The Benefits of a Cashless Payment System:
Electronic Cashless Pin System.
To make applications easier for parents/carers we have changed the way that you can apply for free school meals. The criteria for being able to apply and for the online application please see the details below.
Free school meals for children in Year 3 and older
Older children may get free school meals if their parents or carers get any of these benefits:
[Anyone who gets Working Tax Credit - GOV.UK, won't get free meals regardless of income]
Working Tax Credit run-on – paid for 4 weeks after you stop qualifying for Working Tax Credit
Children will get free school meals if they meet the criteria and are in school both before and after lunchtime.
Children eligible for free school meals on or after 1 April 2018 will remain eligible until they finish the phase of schooling (primary or secondary) they're in on 31 March 2023 even if your circumstances change.
Our Electronic Checking Service might be able to confirm entitlement. If not, you'll need to show recent proof that you qualify. Meals cannot be given until eligibility is verified.
Apply online if your child goes to school in East Sussex.