23 August 2020 GCSE Results
GCSEs August 2020
King's Academy Ringmer – Students celebrate another year of excellent results
Today, King's Academy Ringmer is delighted to say we continue to go from strength to strength. We are extremely proud of the progress our students have made with us. This has been an exceptionally challenging year for all students taking GCSEs, so today we must remind ourselves to celebrate the achievements of these students with genuine enthusiasm.
King's Academy Ringmer's students have achieved outstanding results despite the disruption to their final year. Studying a GCSE is a five-year commitment not just a terminal exam, so when we share the success of our students, we share the end of five years of dedication and effort.
Several individual students excelled. Robyn Read achieved nine grade 9s and a grade 8. Head Girl Martha Swallow got six grade 9s and four grade 8s. We are delighted that both Martha and Louis Massingham, our Head Boy, put their leadership training in Madrid to good use by achieving Grade 8s in Spanish. Louis also gained five grade 9s and will be going on to college to study A-levels in maths and the sciences. We would also like to congratulate Eartha Greyson and Isaac Oyarzabal for their six grade 9s amongst their other strong results.
The Principal Sian Williams said: "The school continues to make rapid progress and is a school of which the local community can be proud. We are delighted that this year group have received the results that they deserve following the rigorous process of centre assessment. I am so very, very proud of them! This is also an opportunity to acknowledge the dedication and skill of the staff who have worked tirelessly with our Year 11s. This year our teachers and leaders have been trusted to assess our students using their knowledge and professionalism; it is a momentous moment and allows us to truly acknowledge the abilities and commitment of our students and staff."
The Chief Executive Officer, Nick Cross, said: "We are delighted for our students at King's Academy Ringmer. Our warmest congratulations to students, Sian Williams and her team for their hard work. Such a positive set of results in a very challenging year, shows that the school continues to go from strength to strength."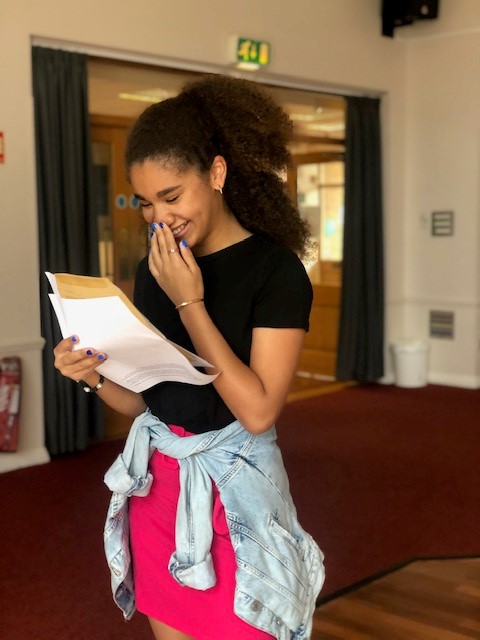 Sir Roger Fry, commented: "This is a magnificent outcome. The work of our Principal, Sian Williams, and her staff and the progress of the students has once again confirmed my belief that King's Academy Ringmer has the potential to progress now from being a good school to being an outstanding school. This outcome has been achieved in a year that has had unprecedented difficulties. I am proud of the School and know that our students are capable of excellent academic results. We will continue to support the School to ensure that it moves on from being 'Good' to 'Outstanding'."
2019
Progress 8 Score - +0.09 (based on the 2018 years co-efficients)
Attainment 8 4.6
Percentage of students with a standard pass (4+) in English and Maths - 64%
Percentage of students with a strong pass (5+) in English and Maths - 40%
Percentage of students entered for the Ebacc - 84%
Percentage of students who achieved the Ebacc - 34%
Percentage of students staying in education or employment - 100%
Performance tables link - https://www.compare-school-performance.service.gov.uk/school/144505/king's-academy-ringmer