Main School Building
Welcome to the Eco Section of our website. The School has established an enviable record of achievement in environmental work. There have been substantial improvements in our buildings but more importantly in our systems and the way we operate. The School was built over 50 years ago when energy was cheap and issues such as global warming were unheard of.
The Photo Voltaic (Solar) Panels
One of our first major achievements was obtaining £48,000 of funding from EDF and the Green Fund to install Solar Panels to our main School roof. These generated 7.5kW of electricity which represented around 10% of electrical use. To celebrate the commissioning of the panels we invited Norman Baker MP to the School. We have now upgraded our PV arrays to provide in excess of 25% of our electrical energy.
Our main School and swimming pool is heated by a 450kW Biomass Boiler powered by woodchip sourced from local woodland. We also have a wind turbine, ground source heat pumps. Extensive insulation has helped us reduce energy waste even further. We now generate around 70% of our energy for heat on-site!
An important part of our work is to engage our pupils in all our eco projects. We now have over 120 Eco Reps. This means that 25% of the school play an active part in our eco work. At the opening of the solar panels all Eco Reps were invited and taken out of class to celebrate our success.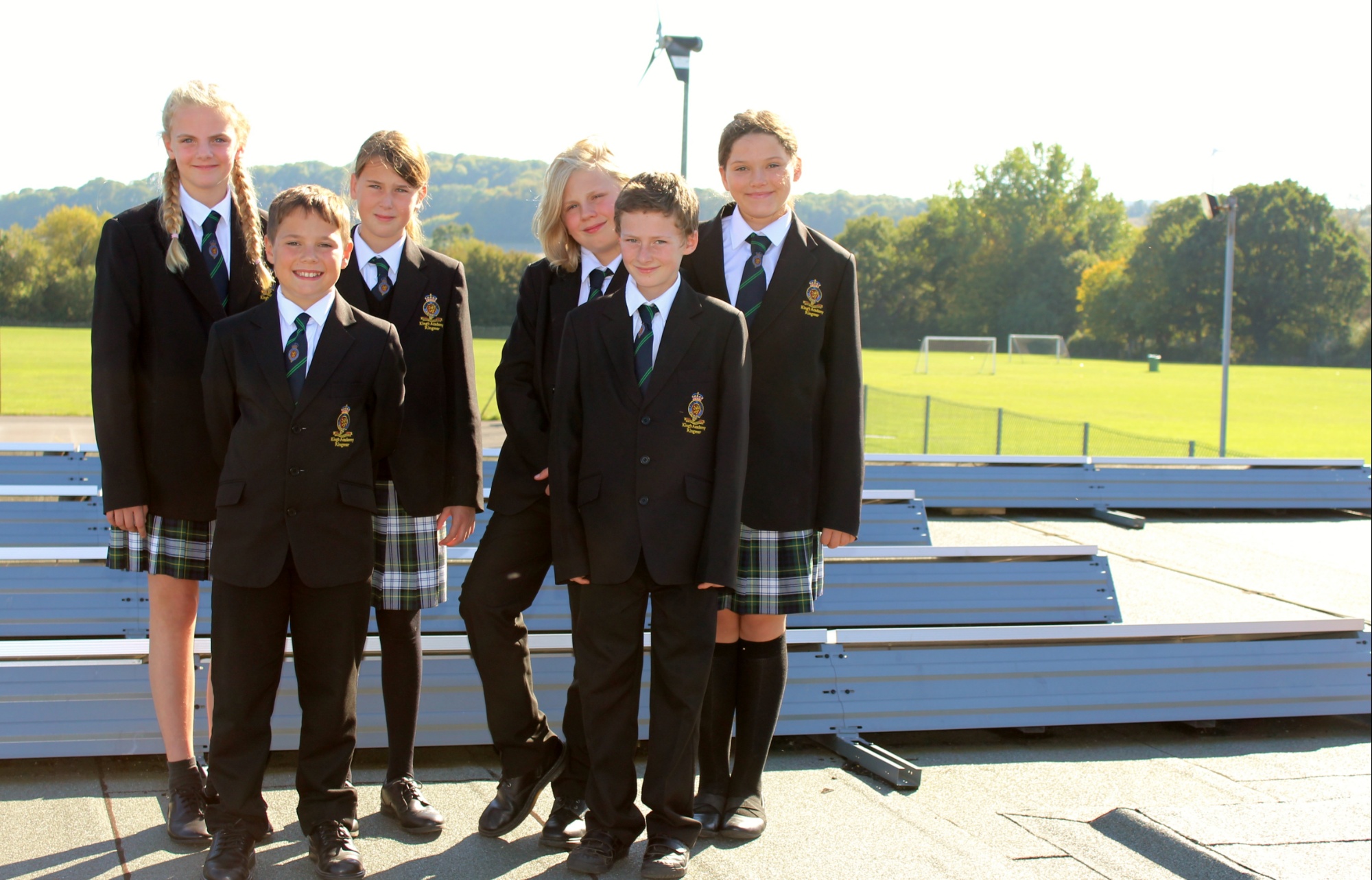 Rainwater Harvesting
In the last few years we have installed a rainwater harvesting system so we can flush the students toilets, this saves 8 litres of drinking water per flush. This was sponsored by South East Water.
Wakely Building
When designing our Wakely Building our Eco Reps were involved from the very beginning and suggested such energy saving devices as movement sensors, light sensors and the exterior blinds which have removed the need for air conditioning.
The Stephen Green Building
The policy of involving pupils in the design of buildings extended to the Stephen Green building which in addition to the systems detailed above also has a ground source heat pump providing around 35% of the building's energy.
Eco Code
The Eco Code is a document "designed for Students by Students" and sets out the simple criteria under which every classroom and office should operate. The code outlines systems for recycling, minimising energy waste and the role of the Eco Rep.
Recycling
We Want Your Mobile!
A recent survey of pupils in an Assembly showed that nearly every student in the school had at least one redundant mobile phone. The School can recycle these phones and raise money at the same time. So please bring in those embarrassing old handsets and let us make use of them. We promise not tell anyone you actually used it!
You'll not only be helping to raise funds but stopping masses of potential contamination which would occur if you put them in the household waste.
Simply bring the phones to the ICT Office and do your bit for recycling.
We recycle 110 tonnes of raw material each year including paper, cans, plastic, mobile phones, clothes, vegetable oil, printer cartridges and cardboard. We obtained our Recycling Bins free from Harvey's Brewery in Lewes and there is one in each classroom and office and ECO Reps in that classroom empty the bins. Each student is given an allocation of paper for each month, Year 7's get 15, and right the way through to Year 11's who get 40.
National Recognition
Our work has also been recognised in a series of national awards. These include the Ashden Award given to the school in the UK showing the best means of energy usage, the Teaching Award for our work on sustainability, the Specialist Schools and Academies Trust Award for sustainability and most recently Ringmer was chosen to be one of the twelve UK schools to act as Ambassadors on sustainability at the 2012 Olympics. We were also the first school to win an Education Award from the Energy Institute and are an Ambassador Eco School. As a Green Flag Eco School, we are proud to announce that we have, along with only four other schools in the uk, been invited to enter their Hall of Fame.
The School was one of only two secondary schools to be invited by HRH Prince of Wales to exhibit our Eco work at his home, Clarence House. This resulted in a visit to the college by the Duchess of Cornwall, who met and spoke with our Senior Eco Reps in May 2014.
At Ringmer we see it as our responsibility to prepare every pupil with the knowledge they will need to make the important decisions about their environmental future which will occur within their lifetime.
With this philosophy permeating around the School we find ourselves standing at the forefront of setting standards and providing a rock solid example for others to follow.
If you wish to contact the school about anything Eco, please contact, Sarah Pillar - Environmental Co-ordinator or Emma Holmes -Environmental Project Manager: ringmer.eco@kingsacademies.uk