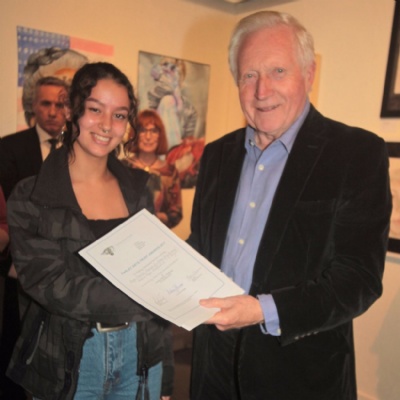 The art exhibition held on Friday 13.10.17 displayed artwork form several schools and colleges across East-Sussex. Various categories such as Mixed Media, Painting, Textiles, Sketchbooks, 3D and Pencil work showcased entries for GCSE/ Level2 and A Level/ Level3.
Many works displayed insightful and meaningful traits, which were recognised for their talents and commitment.
Emily Griffiths and Angel Patrick were chosen to exhibit their work at the event: Emily's A1 Acrylic painting of an eye and Angel's A1 Graphite sketch of her mum.
On the evening, Angel's piece of artwork was awarded 'highly commended' and this award was presented by David Dimbleby (pictured above).
I am very proud of all our art students at King's Academy Ringmer, for their excellent progress and commitment to the art course. Special mention must go to Emily and Angel for their artistic talents, passion and efforts.
I would also like to thank Meg Sullivan for the photos of the event and her continued support.
With regards,
Mr M Madriaga
Head of Faculty: Creative Arts, Technology and PE
lease enter some content for your news story here.