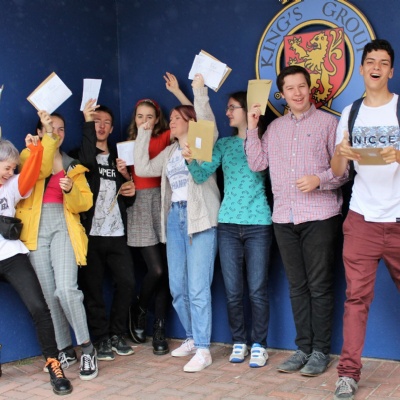 Today, King's Academy Ringmer is delighted to be celebrating another year of improved GCSE results under the new reformed GCSE specifications. We would like to extend our congratulations to all of our Year 11 students on their results, which reflect their hard work and commitment. As a school, we are incredibly proud of them.
This year, our students made impressive progress across the board, and the provisional overall pass rate is the school's best ever. Students performed exceptionally well in both English and Maths under the new exam specifications. 75% per cent of students achieved Grade 4/5 or better in English and 73% in Maths, another impressive increase from last year. Progress across the board is above national levels.
A number of subjects performed particularly well. Physics and Biology had a 100 per cent pass rate and Art had a 90 per cent pass rate. In Humanities, 75 per cent of students achieved a grade 4-9 in Geography and History. These are the school's best ever results and both staff and students can be proud of the progress made.
Several individual students excelled, including Sophie Baker, who achieved 9s in Maths, English, Biology, Chemistry, Physics, Geography, Art as well as an 8 in Spanish. Toby Stubbs, who achieved a 9 in History and Geography together with five grade 8s. Emily Trent, who achieved a 9 in English Language and Literature and Geography and two grade 8s in her Science. Oscar Beale, who has a scholarship to study in Spain for his sixth form, gained the required 9s in Triple Science as well as a grade 9 in Geography.
The school's Principal Matt Hillier, said: "I would like to congratulate all of our Year 11 students on their results and wish them every success in the future. We are thrilled to see that all our students' hard work has paid off. It's been a challenging year for schools across the country with new exam specifications in the majority of subjects so we are therefore particularly pleased that students and teachers have successfully negotiated these changes to gain this impressive set of results."
Most importantly, these results mean that this year more King's Academy students than ever have made real progress. They're now in a strong position to take the next step in education, training or employment.
We're looking forward to continuing to build on this success and making King's Academy Ringmer a place where every student feels valued and challenged, and can develop the skills and confidence they need to make a success of whatever they choose to do in the future.
Sir Roger Fry, Chairman of King's Group Academies, said he is delighted with the spectacular progress that King's Academy Ringmer has made since joining the MAT. He was always convinced that this positive change would be possible with the right leadership, and he congratulates Principal Mr Matt Hillier and his staff for proving that Ringmer pupils are capable of excellent academic results.