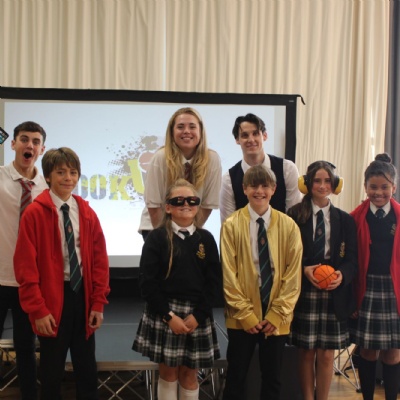 Please see this week's newsletter from our Principal, Mr Harvey
Dear parent/carer,
I hope you have had an enjoyable week. We have had another great week, with lots going on at KAR.
Our Year 7's had a theatre-in-education programme learning about the vital road safety messages - a memorable, informative and fun experience for the cohort. I continue to be impressed by the high level of learning in classrooms, and have enjoyed seeing the Cultural Learning Lanterns Project in Year 8 and the toddler stools DT project in Year 10!
Coffee and Cake Morning - Monday 16th October
A reminder that our first coffee and cake morning will be Monday 16th between 9.20-11. This is a chance to come in and have an informal chat with myself and the leadership team about how the school develops our partnership with parents. I hope to see you there, our canteen does very good coffee and cake!
Surveys
A reminder that the deadline to complete the parent survey is approaching next week. I thank those who have taken the time to complete it, as these ideas will give us some further direction on our 'journey towards excellence'.
Attendance
I thank you for your continued support on attendance. A reminder that our minimum expectation is 96%, as statistically anything below begins to significantly affect chances of good GCSE grades across all subjects. I am delighted to report that we are currently above national average, compared to in-line last year. As we move towards the winter season, I hope we can work together to continue to ensure our children are in school every day.
Eco Award
Finally, I am proud to say that we have achieved our Eco-Schools Green Flag Award for the 20th consecutive year! This puts us into a very small band of schools in the country who have consistently worked over time to promote eco based initiatives. Well done to everyone involved.
Have a great weekend
Kind Regards,
Chris Harvey, Principal
Art Department
Here are 2 exciting art competitions students can get involved with for external companies.
Competition 1:
Create a BONFIRE inspired art piece.
the rules are:
1) use any material you want
2) make it bonfire themed
3) any size you like
4) the more creative the better
The deadline for this is October the 31st, pieces to be handed to Miss Hook. The entries will be sent off to a local business to judge. The winner could win up £100 art supplies for the school.
Best submissions sent to Miss Hook will be judged before they are sent off to decide on a winner out of all the entries with a prize from the Art Department.
Competition 2:
Please see the poster below for information
Good luck and happy creating, Miss Hook
Found Property
All items which have been handed in will be placed on a table in the school hall next week for identification and removal by their owners.
Please note that these are ALL unnamed items: any named items are returned to students.
IF EVERYTHING WAS NAMED WE WOULD HAVE ALMOST NO LOST PROPERTY!
Many thanks
Reception Team
Ringmer Dramatic Society - Dick Whittington
Ringmer Dramatic Society are putting on a production of Dick Whittington! It would be great to see many of you there and tickets are selling fast. Please see the flyer attached at the bottom of the newsletter for more details! Thank you.
ECO News
Eco-Schools Green Flag Award:
King's Academy Ringmer are proud to announce that we have achieved our Eco-Schools Green Flag Award for the 20th consecutive year!

We couldn't do this without the amazing hard work and enthusiasm of the students, who guide everything that we do here at King's Academy Ringmer.

We look forward to sharing our activities with you, over the coming academic year. Showing how we are working hard to make a difference.
Teenage Clothes Swap Collection - for Ringmer Village Eco Extravaganza
We are supporting Ringmer Village Hall with their Eco Extravaganza event on Saturday 28th October, 10am-3:30pm at the Village Hall.

We are collecting teenage clothing (and accessories) for a clothes swap that will be held at the event, and are asking students to bring in any donated items before school on Tuesday 17th October. An email went home earlier in the week providing details and I've included the information below as well.
What to Do?

Bring in any suitable items to school in a bag

Both boys' and girls' items, such as clothes, scarves, hats, socks, gloves, bags etc.

When?

TUESDAY 17th October before school, 8am-8:45am

Where?

Drop bags/donations to Mrs Teague at the bike sheds outside the front of the school, as you arrive in the morning.

Ringmer Church of St Mary's are also collecting clothing and accessory donations in the church room at the rear of the church, on Thursday 26th & Friday 27th October, between 2-4pm.

If you have any questions, please contact the King's Academy Ringmer Eco Team at ringmer.eco@kingacademies.uk

Thank you for your support, Mrs Teague
Upcoming Open College Events
14th October -Plumpton
14th October- DV8
17th October -Hailsham
18th and 19th October -Bexhill
19th October -BACA
19th October -East Sussex College, Eastbourne
19th October -Heathfield
20th October -Gildredge House
What Next Sussex October 17th 6.00pm -7.30pm Online Careers Event
This free not to be missed event is 90 minutes of career guidance aimed at year 10's and 11's that can be accessed at home. This is a chance to chat one-to- one with careers experts, meet local employers, hear about exciting courses and get advice on next education steps, there's everything you need in one place. The evening session is from 6pm -7.30pm with special video content for parents, carers and learners to engage with at home. We recommend you visit the website in advance to sign up:
https://www.getcareerconfident.co.uk/what-next-sussex
Safeguarding
WhatsApp group circulating called 'Add Anyone You Can'
It has come to our attention this morning that there is a WhatsApp group circulating called 'Add Anyone You Can' which involves a very large number of students from a range of schools. Within this group inappropriate messages and at least one indecent image has been posted.
Please check your children's mobile devices, ensure they are not part of the group chat and where necessary delete the messages.
Please also see the guidance from the NSPCC on 'Is WhatsApp safe for my child?' which contains a reminder that the app is rated as suitable for people who are 16+ years of age.
Gun and Knife Crime - Childline
It is a sad truth that in the United Kingdom, there are peaks and troughs of violent crime among teenagers. We are currently going through a peak, with mainly 15 to 17 year olds being both the perpetrators and victims. The effect is felt throughout the under-18 demographic nationally, and due to this nature should be a prime concern of educational establishments. Of these armament categories, that of knife crime is by far the greater danger of the two for pupils. Sometimes these offences are the result of gang activity, and sometimes it's simply a case of out-of-control emotions directed in a manner whose consequences, the perpetrator does not fully understand. In any case, it is an area that educational professionals & parents must be aware of, and be prepared to address with their children and students. To help clarify this area, Childline has published a page focusing on gun and knife crime. What it is and its potential consequences, if interested in reading what they have to say please click on the link below:
https://www.childline.org.uk/info-advice/bullying-abuse-safety/crime-law/gun-knife-crime/
3. Head lice
Please be advised we have had one reported case of head lice. Please could we ask parents/carers to be vigilant in checking for any further cases.