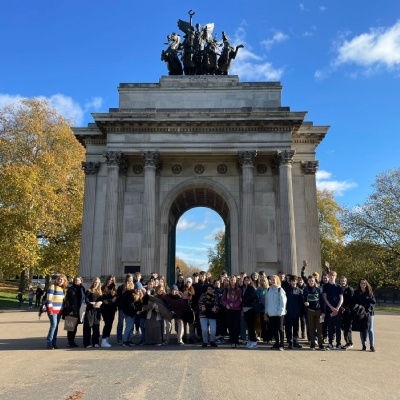 King's Academy Ringmer weekly newsletter 25/11/22
This week's message from our principal, Mrs Williams.
A very busy week as the excitement starts to build and we can officially start planning all things Christmas. We are planning the Principal's Advent Calendar, Christmas Jumper Day and end of term celebrations. More details to follow but I can confirm that we will be finishing at 12.20pm on the last day of term and making the usual arrangements with the bus companies.
Governance at KAR
Dear parents,
At the last meeting of the local governing board, we agreed to write to parents to keep you in touch with what we do.
We are a group of volunteers who come in and see the school, and work strategically with the Trust board and with the leadership of the school to help ensure that pupils are getting a high quality of education.
We come in to open evenings, concerts and parents' evenings to gather feedback from parents and pupils, and we appreciate all the surveys that you have filled in that help us know what is going on in the school.
At the last meeting, we focussed on the Personal Development of pupils in the school. We found the school's plans exciting and innovative and we anticipate that the school community will also welcome the plans for the Personal Development Passports, Duke of Edinburgh's Award and enhanced enrichment weeks, among other things.
We would like to thank families for the support that has been given to the Enrichment Voluntary Gund
We look forward to speaking to more of you this year, and to continuing to observe the school as it fulfils its ambitious goals.
Denise Kong
Chair of the Local Board of Governors
Music Department - Save the Date! Winter Showcase
Our Winter Showcase will take place on Wednesday 14th December from 6 - 7:15 pm in the Hall at Kings Academy Ringmer. Please come and help us celebrate the end of term with performances from our students in music, dance and drama. Tickets will be free and we will hold a retiring collection for charity (we will confirm the charity closer to the time). Refreshments will be available.
Art Department - London Trip
The art department returned to its annual Yr11 Art & Photography Trip to London. An early start at 6:30am ensured all were kept for a full day of London sites and Gallery visits to the Victoria and Albert Museum and The National Gallery. Students visited key landmarks such as Harrods, Buckingham Palace and Trafalgar Square. Yr11 students were impeccably behaved and were ambassadors for Kings Academy Ringmer. The trip was a huge success and is vital with supporting Yr11 art and Photography students with 1st hand observations and experiences which inform their current and upcoming Externally Set Assignment in January 2023.
As part of the trip student will create a visual mood board inspired by the visit, also we hold a Photography competition, this year the topics to provide photographic evidence were:
- An image which showcases Children in Need.
- A yellow exclamation mark.
- A tombstone.
- A Perfume Advert.
- A Tesla.
The 1st student to submit their photos was Morgan Isted yr11- Well done.
Thank you to all Yr11 students who attended the trip and specifically a massive thank you to Ms Hook, Mrs White and Ms Tomsett. Ms Hook and I continue to offer KS4 art and ph sessions every Friday 3:45 to 5pm in S16 and S18.
Many thanks,
Mr Madriaga
DT Department
An excellent outcome and example of fantastic work produced by one of our star students in D&T.
"This is my niece enjoying her newly painted stool. I have finished it off, it was a great design when tested by a 1 year old it didn't fall over at all. She is going to use it as a table until she can get onto it!"
Food Technology Department
Year 7 students - Food Technology - Cookery Club after school.
Wonderful cookery skills making - Muffins, Lemon Drizzle cake, Chocolate chip cookies, Savoury Palmier biscuits. All students have had great fun cooking.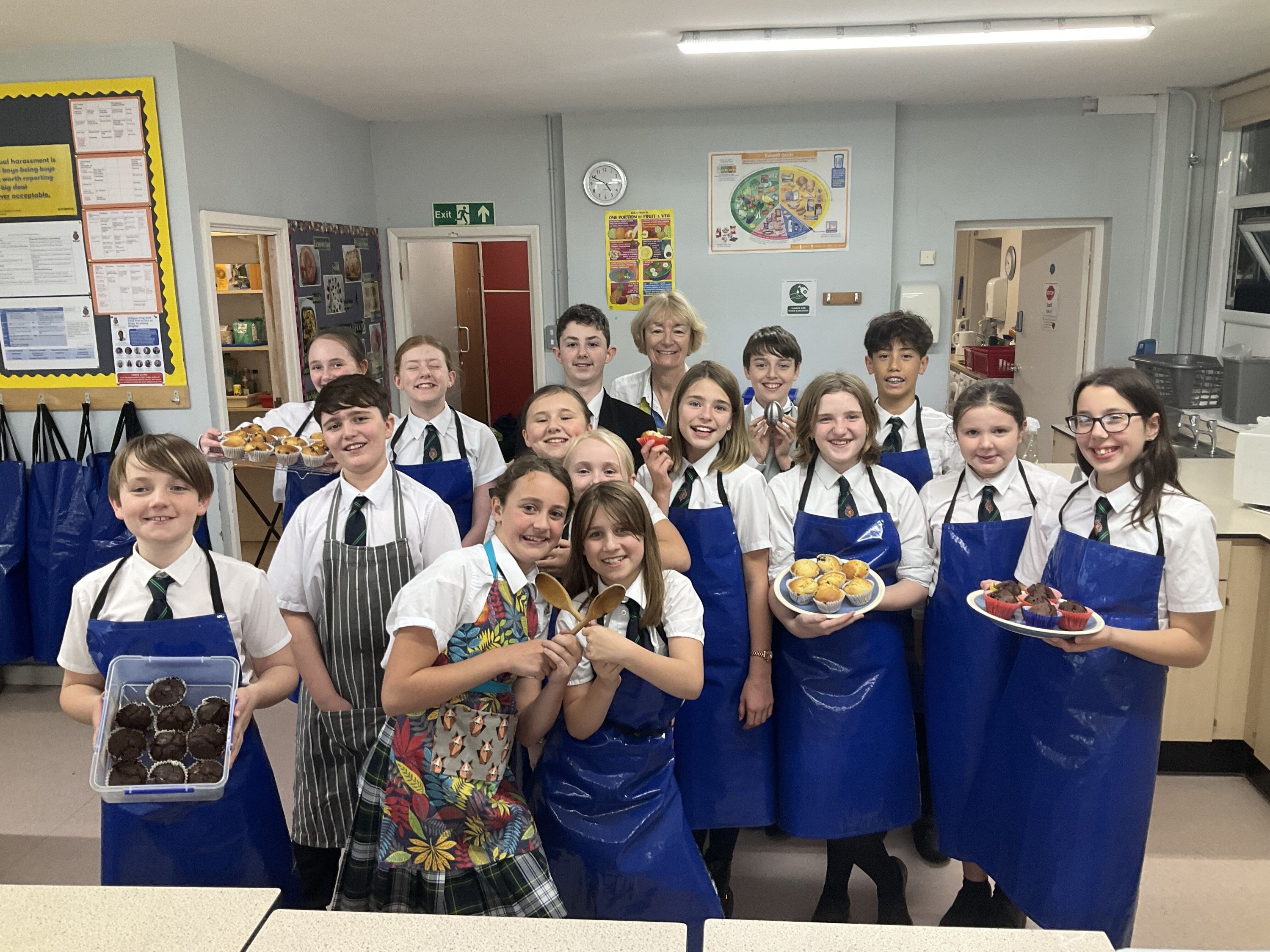 Year 7 students have enjoyed attending the after school cooking club this term. We have concentrated on sweet baked goods and have so far made cookies, muffins and lemon drizzle sponge cake. I look forward to offering additional after school club sessions in the New Year. Dates will be advertised in advance and places will be offered to those who have not yet taken part.
Christmas Lunch – 14th December 2022
The traditional Christmas lunch will return this year and will be available on Wednesday 14th December 2022. The price of this 2-course roast turkey meal, or vegetarian alternative, will be £2.55. The dining room is accepting bookings which will close on Friday 9th December 2022.
Tickets will go on sale in the dining room on Monday 28th November 2022. All students must book directly with the dining room staff; payment will be deducted from students' accounts at the time of booking, so please ensure accounts are topped up.
Students will be provided with a ticket at the time of purchase. Students on Free School Meals must also book directly with the dining room staff and payment will be taken on 14th December 2022 so as not to affect their daily allowance. There will also be hot roast meat baguettes, pizza and sandwiches available on this day. Please see the attached flyers.
Christmas Wreath Workshop
We have had an overwhelming amount of students wanting to take part in the wreath making workshop. Therefore, we are currently addressing staffing to see if we can accommodate all students who wish to attend. We are now not taking any further students. Please look out for the same next year.
FREE COUNSELLING FOR 12-18 YEAR OLDS
E-motion offers free email counselling and instant message sessions – up to 12, weekly sessions.
Online support works best if the young person is struggling with low mood and anxiety and the risk is relatively low. Issues such as complex trauma, chronic eating disorders are better suited to face-to-face support. To discuss referrals and explore the level of risk.
Young people can self-refer easily by going to the website.

Reminder - Student Acceptable Use of Technology Policy Google form
Thank you to everyone that has already completed the above google form shared with parents last week. It is really important that every family engages in this process.
As a reminder - our governing board ratified the above updated policy at their Full Governors meeting on 28 September 2022 following the publication of the Keeping Children Safe in Education Document – September 2022.
As technology plays a major role in our school lives, we are asking all parents/carers together with your son/daughter to read through this updated policy – see link - https://www.kgaringmer.uk/attachments/download.asp?file=1651&type=pdf.
We are then asking you to complete our google form to confirm that you and your son/daughter have both read and understood the information detailed. Please see link to access the google form: - https://docs.google.com/forms/d/e/1FAIpQLSf41B_Xdjf_N9IyP906IN89fhhVBJ2MoSxuXtPbeTPXHj6v8A/viewform
This policy will be issued to all new students moving forward.
Please take the time to read the policy and then complete the google form. Thank you in advance for your assistance with this.
Chartwells Advert - 2 Job Vacancies at King's Academy Ringmer
Chef / Cook and Catering Assistant
Safeguarding
TikTok has now raised its Livestreaming Age Requirement to 18 (BBC News). TikTok has frequently been called out for its glaring failures to protect under 18s which use its service. With its flashy images, easily digestible content and 'childlike' feel it has always been popular among school aged children. A fact which has made its safeguarding failures all the more worrying. The platform's attempt to ban under 18s seems to be unfeasible however, and so it is as important as ever to be aware of its usage. In particular, its gift function can easily be manipulated in order to commit criminal acts against children. As such wariness around the app should not be lowered as a result. To find out more about what motivated their decision, and its potential outcomes head over to the page linked below:
https://www.bbc.co.uk/news/technology-63262102
Kind regards,

Sian Williams
Principal