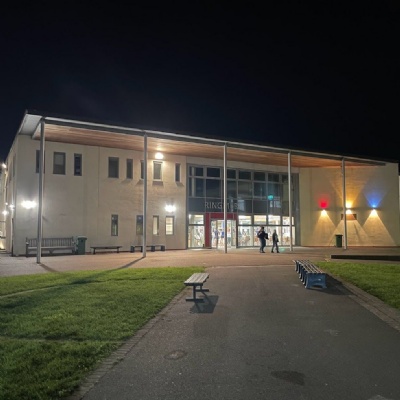 King's Academy Ringmer weekly newsletter 04/11/22
This week's message from our principal, Mrs Williams.
A very busy newsletter this week, so I will let the staff do the talking - just a short note from me: it has been a very wet week and lots of students are still coming into school without coats or arriving very wet and saying - my coat is in my bag! Winter is finally upon us, please dress for the weather!
Green Careers Week 2022 – 7 to 11 November 2022
Next week is 'Green Careers Week' in the UK, and we will be marking it with 2 House Enterprise Competitions, open to all students. The options will be: designing a 'green' job and/or designing a 'green' workspace. The details of the competitions will be launched in Monday's tutor time and posted on Google Classroom, a planning session will take place in the Library on Tuesday 8th and the closing date for entries will be midnight on 25th November, via Google Classroom.
If you work in a 'green' industry, we would love to hear from you - particularly if you would like to help with judging the competition! Please email liz.teague@kingsacademies.uk if you would like to get involved.
Enrichment Week 2023 – 3 to 7 July 2023
The Ardeche Adventure residential visit is now full! Please be aware that the other residential visits to Bude (5 days) and the Mendip Hills (3 days) are still available, but with limited places. More details
There will be options available for a range of daily activities during Enrichment Week for Y7 and the Y8 and Y9 students not on residential visits; our full programme will be complete and shared by the end of this term. Please see details in the link at the bottom of the newsletter.
Year 10 Work Experience – 3 to 7 July 2023
Reminder: Year 10 students should have completed their placement choices on the Aspire website by now. All the details on how to access this are on Google Classroom. It is very important that these choices are made as soon as possible so that the Aspire service can begin to process our school's requests, as they won't begin to do this until the majority of students have made their choices. If your son/daughter is finding their own placement, they still need to complete the details for this on the website so that we have those details. All students have been offered help in school with this so if they are struggling to access the website at home they must see Ms Hunnisett or Ms Dormer as soon as possible.
Careers in Aviation and Aerospace
Introduction to Aviation and Aerospace Careers Conferences: this is an unique opportunity for students to engage with speakers from leading organisations and gain an insight into careers opportunities across the broad scope of the aviation and aerospace industries. These will be virtual conferences that will be held during school time and will be delivered to Year 10 and 11 students.
Students will have to sign up for the conferences by registering their interest with Ms Hunnisett in person or via email through Edulink. Further details can be found here Soaring to Success virtual conferences Please note that only the school can register for the sessions. We will hopefully be given the recordings of the conferences, which can then be shared with our KS3 students as appropriate.
National Space Academy online Careers Conferences for Students and Parents/Carers
If you are interested in attending a virtual conference with your daughter/son, exploring the range of careers available through the National Space Academy, please follow this link for more information: Parent and children online conference
A weekend conference specifically for Year 10 and 11 students is also available. Please follow this link to register: Y10 11 National Space Academy conference
Duke of Edinburgh Award for Years 9 and 10
We are going to be launching the Duke of Edinburgh Award very soon and a letter will be sent home to secure your place. In the meantime, if you are interested please fill out the google form below"
https://docs.google.com/forms/d/e/1FAIpQLSe_BafI4X_icmwJbGz9mPe6nirZe1RmNMb8gxegCkA-acm_bQ/viewform?usp=sf_link
Remembrance Poppies - bring your coins
Senior students will be taking round paper poppies into all mentor groups every morning next week. If your child would like to donate and receive one, they are welcome to bring in some coins to put into the donation tin for the Royal British Legion. They will need to bring in a safety pin. Lest we forget.
Flu Vaccination for years 7-9 on Tuesday 6th December
Parents/carers of students in years 7,8 & 9 will receive an email with the link allowing you to register your preference for the flu vaccination next week. Please complete the form whether you wish your child to have the vaccination or not.
ECO News
Following on from our fantastic news and achievement of winning the Department of Education Sustainability Award last month, we are in the process of planning how we can use the prize money in the school to support on ongoing Eco Values. We will keep you all informed as provide updates. Please see link to our Eco Values - Eco Values
In other news:
Bird Food & Wildlife Camera - we have restocked the bird food to help our feathered friends happy over the coming months, as the temperatures begin to drop. We will be reinstating the wildlife camera and the Eco Reps are hoping to catch images of who has been visiting us, that we will be sharing.

Eco Hub Gardening Morning - Mrs Teague is busy organising a gardening morning at the Eco Hub on a Saturday. Provisionally we are looking at Saturday 12th November, however it might prove a bit tight to organise. We will update everyone ASAP on the date and an information letter with parental permission will be sent once it is confirmed.
Ringmer Primary School – Fireworks on 18 November 2022
Fireworks, BBQ and Bar from 6pm on 18 November 2022. Fireworks at 7pm. For tickets see link below:
https://www.pta-events.com/ringmerprimaryandnurseryschoolpta
Facebook event https://fb.me/e/1Mx0BASaO
Save the date – Eastbourne Jubilee Green Canopy Team
On 19th November at 10am, the Eastbourne Jubilee Green Canopy Team will be planting 70 trees and as many accompanying shrubs alongside the path that rises up Paradise Down from the junction of Paradise Drive and Link Road. They aim to make this a beautiful start to a well-used way up the hill, and a lasting tribute to our late Queen.
Come and join them for the ceremony, and the planting, and please consider sponsoring one of the trees (select sapling) or shrubs (select whip) on their website https://eastbournejgc.org/. They would also like to see a stone waymarker at the start of the path, the gates of paradise – please email them if you would like to help sponsor that - trees@eastbournejgc.org
Glyndebourne Trip - 17 October 2022
Before half-term, 15 Year 9 and 10 students went to Glyndebourne Opera and, for many, had their first experience of experiencing live opera. Some of these students had visited Glyndebourne last year as part of the Open Doors project run by Sussex Careers Service. It was fascinating for the students to see the finished product of the many roles that go into creating an opera including: performers, backstage crew and front of house staff.
These students will be participating in an Arts Award Discover project which will give them a certificate that then can include in their new Personal Development Passports. This will keep a record of their experience as well as give them a chance to reflect on the trip as well as research more about roles in the production. They will share their thoughts and understanding with each other to complete the project. We will then submit their work and the students will receive their certificates from Glyndebourne.
It was such a pleasure to take our students to Glyndebourne as they were completely engaged even though opera can be an intimidating new art form, and they were outstanding ambassadors for the school.
Denise Kong, Chair of the local governing board joined us on the trip and said:
"It was a pleasure to see the students behaving so well, and giving the performers such enthusiastic applause. A big thanks to the students for making me feel so welcome and telling me all about the things they enjoyed doing in school. It was especially good to see their enthusiasm for music."
Reminder - Student Acceptable Use of Technology Policy Google form
Thank you to everyone that has already completed the above google form shared with parents last week. It is really important that every family engages in this process.
As a reminder - our governing board ratified the above updated policy at their Full Governors meeting on 28 September 2022 following the publication of the Keeping Children Safe in Education Document – September 2022.
As technology plays a major role in our school lives, we are asking all parents/carers together with your son/daughter to read through this updated policy – see link - https://www.kgaringmer.uk/attachments/download.asp?file=1651&type=pdf.
We are then asking you to complete our google form to confirm that you and your son/daughter have both read and understood the information detailed. Please see link to access the google form: - https://docs.google.com/forms/d/e/1FAIpQLSf41B_Xdjf_N9IyP906IN89fhhVBJ2MoSxuXtPbeTPXHj6v8A/viewform
This policy will be issued to all new students moving forward.
Please take the time to read the policy and then complete the google form. Thank you in advance for your assistance with this.
Do you need a hand? The cost of living help that's on offer in East Sussex
Please follow this link:
https://content.govdelivery.com/accounts/UKESCC/bulletins/335b056
Safeguarding
FIREWORKS – STAYING SAFE
As we are fast approaching Bonfire Night, East Sussex Fire & Rescue Service would like to remind parents and students about firework safety. Fireworks are exciting to watch, but every year many people get hurt in firework accidents or may get involved with fireworks in a way that puts themselves or others at risk. Most accidents happen at family/private displays or in the street. Please also see attached safety flyer
Could we please ask for your help in reminding your son/daughter about the following safety messages on our behalf. Many young people will be aware of these dangers already and some are more aware than the surrounding adults. This year, we want to encourage students to share this information with their parents and carers, keeping everyone safe during the fireworks seasons.
We have also given you links to resources that specifically cover firework safety teaching materials.
For Key Stage 3 & 4 students the main safety messages are:
· Never put fireworks in your pocket or throw them
· When you are watching fireworks, always stand well back
· Never go near a firework when it has been lit. Even if it hasn't gone off, it could still explode
· Never give sparklers to a child under five
· Keep pets indoors
Safety Messages for Parents/Carers Setting Off Fireworks
· Only buy fireworks marked with the British Standard mark, BS7114
· Don't drink alcohol if setting off fireworks
· Keep fireworks in a closed metal box
· Follow the instructions on each firework by torchlight, not a naked flame
· Fireworks should be lit at arm's length, using a taper
· Always supervise children around fireworks
· Keep pets indoors
What does the law say?
The Fireworks Regulations 2004 make it an offence to:
· Sell fireworks to people under 18 years of age
· Possessing fireworks in a public place, if you are under 18 years of age
· Throw a firework in the street or public place
· Don't let off noisy fireworks after 11.00pm
Further information on staying safe can be obtained from the following websites and may be useful for teachers, parents and students:
https://www.rospa.com/Home-Safety/Advice/Fireworks-Safety
https://kidshealth.org/en/parents/fireworks.html
https://www.capt.org.uk/staying-safe-around-fireworks
https://www.fireservice.co.uk/safety/firework-safety/
On behalf of East Sussex Fire and Rescue Service, thank you for your support.
Have a great weekend.
Kind regards,

Sian Williams
Principal