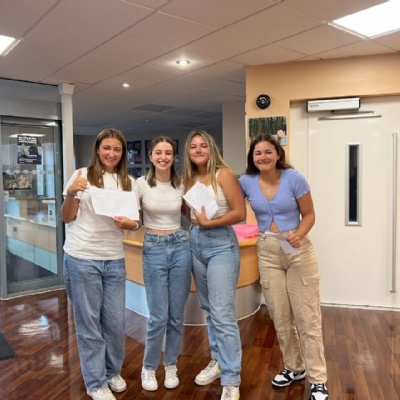 Today, King's Academy Ringmer is delighted to be celebrating another year of exceptional GCSE results. We would like to extend our congratulations to all of our Year 11 students on their results, which reflect their hard work and commitment. As a school, we are incredibly proud of them.
This year, our students made impressive progress across the board, and the combined English and Maths pass rate is the school's best ever, at 72%. Students performed exceptionally well in both English and Maths. 85% of students achieved Grade 4/5 or better in English and 78% in Maths; progress across the board is above national levels.
A number of subjects performed particularly well. 33% of our History students achieved a grade 7 or above and 10 % of our students achieved a grade 9 in English, English Literature, Biology, Chemistry, Physics, History, Geography, Music and PE.
Several individual students excelled, including Serephina Watlkins who achieved 8 Grade 9s and 2 grade 8s and Headboy Henry May earned himself 7 Grade 9s and congratulations to Jack Hobbs, Rosie Ellis and Sky Jackson with 5 grade 9s and host of 7s and 8s. However, what was most pleasing is that this year more King's Academy students than ever have made real progress. They're now in a strong position to take the next step in education, training or employment.
The school's Principal, Sian Williams, said: "I am delighted for ALL of our Year 11 students on their results and wish them every success in the future. It is not just about getting the highest grades, it is about personal success and the knowledge that determination and hard work is worth it. This is an uplifting occasion for us all and endorses the dedication and commitment of the staff as well as the students to not just their academic outcomes but the wellbeing of us all as we navigated the challenges of the last three years. This group of Year 11s took a leap of faith as they joined the school in its first year as part of King's Group Academies. We couldn't be prouder now to be an oversubscribed academy which offers success at all levels to our students."
The CEO of King's Group Academies, Nick Cross, commented: "It's a fantastic set of results for the students. Congratulations to them as they go on to their next stage. Sian and the team at King's Academy Ringmer have done an amazing job. Their dedication is mightily impressive and they have done the students proud."
Sian WIlliams, Principal