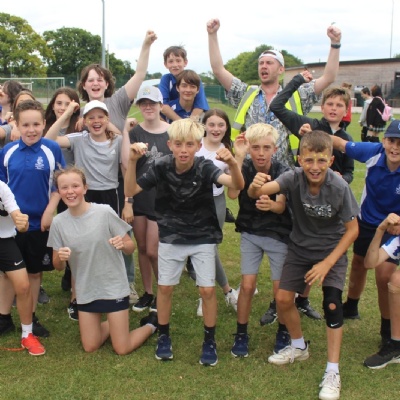 King's Academy Ringmer Weekly Newsletter 08/07/22
This week's message from our principal, Mrs Williams.
Friday 8 July 2022
Transition days Year 6
Monday 4th & Tuesday 5th July saw us welcome our September 2022 Year 7 starters to King's Academy Ringmer for their transition days. It gave them a great opportunity to gain an insight into life here at KAR, whilst meeting many new faces and taking part in some fun, enriching activities. Some got dressed up in medieval clothing, some played pointless and nearly ALL took part in the lunchtime football match organised by Mr Wood & Mr Schultz. They all left with a smile on their face and should be really proud of their courage and attitude shown during their time here. We cannot wait to see you all again in September!
Welcome Evening - 5th July
We then welcomed all of our upcoming year 7 students back, along with two family members, to our welcome evening. This was a chance for them to learn more about the King's Academy Ringmer way, for parents to meet key members of staff and find out more information on buses, catering and uniform. The free samples didn't last very long! The evening was spread over two sessions, meeting others in their tutor group and was a huge success. It is so important for their transition that parents get to meet the staff who will be teaching/mentoring their children. A huge thank you to everyone involved in the planning and implementation of the evening, for your support.
Year 11 Prom
Last night we held the Prom at East Sussex National Golf club, and it was a fabulous affair. As expected, the students looked amazing and arrived in fine style in a plethora of stunning vehicles, Mustangs, Porches Bentleys and Ferraris to name but a few… Not forgetting the highly impressive tractors and yes even a helicopter. It was such a fabulous celebration, so much dancing fun and laughter and a very popular photo booth to record the events. A big thank you to Mrs Duckworth for organising it and the team of staff who helped on the night. What a way to end the year! Here are a few snaps!
PE Department - Town Sports
On Tuesday we took 52 students to Eastbourne Sports park to participate against 11 other local schools in the South Downs Sports Partnership Athletics Events.
The students all acquitted themselves well and represented Ringmer with pride. Some stand out performances were Dom & Ellis winning the 100m in their respective year groups. Lily finished 2nd in the 300m and Edith 2nd in the 200m, Charlie winning the Discus. Final result is yet to be announced, but it is just great to be back and doing fixtures after a long time without.
Apologies must go to all the students who wanted to attend but unfortunately, we were unable to fit on the bus. Well done, The PE team
Music Department - Summer Showcase
I am pleased to invite you to watch your child perform at the Summer Showcase on Tuesday 12th July at 6pm in the Steve Green building. This will be an informal occasion and an opportunity to celebrate some of our extremely talented and dedicated musicians and dancers.
Light refreshments will be available, and we would encourage you to bring picnic items to eat during and after the performance. This event will not be ticketed, but we will have a retiring collection for the Music and Dance Departments to which we hope you will give generously!
Thank you so much for your support and I look forward to seeing you at the concert.
If you have any further questions please email francesca.urquhart@kingsacademies.uk Thank you, Francesca Urquhart, Subject Leader for Music (in school Tuesday - Friday)
Debate Club
There was a frank exchange of views on Thursday 7th July when the Debate Club discussed the motion 'This House believes that feminism is no longer needed as men and women have achieved equality.'
The motion was thoroughly defeated by 15 votes to 2.
As a South East regional representative of WomenEd supporting women leaders, I am delighted with the House vote - we still have a long way to go!
Fundraising
This year we have had the opportunity for more charity and fundraising events - and what a year! The students' hard work and your generosity means we have raised - £3242.11. Every student has given, on average, £6.34 to charity this year via school. Thank you so much! Below you can see where our charitable contributions went.
| | |
| --- | --- |
| Eco Contribution to the Caledonian Forest | £ 122.00 |
| Just One Tree | £ 171.00 |
| Children In Need 2021 | £ 732.50 |
| Christmas Jumper 2021 - Save The Children | £ 197.00 |
| Comic Relief 2022 | £ 987.08 |
| Clic Sargent Fundraising19/20 | £ 14.91 |
| Winston's Wish | £ 181.62 |
| Sponsored Walk - South East Dogs Rescue & Pe Benches 500% Each | £ 836.00 |
For the attention of families in receipt of free school meals
School holidays are approaching! The Government's Holiday activities and food programme funds a range of exciting activities for young people. The activity sessions are free to children who receive benefits-related free school meals. Parents can check if they qualify by reading the East Sussex County Council website Free school meals page.
There are over 140 club venues spread across East Sussex. They all offer a free healthy meal. Activities include sport, art, theatre, forest school, animation, music, computer coding and crafts.
You can find out what's available and book a place on the HAF booking website.
If you prefer, you can see what is happening in each area:
We want as many young people as possible to take part and have a great summer holiday.
You will find more information about the programme on the Holiday Food and Fun webpage.
Kind regards
The HAF Team
Part of the Equality and Participation Team
Children's Services
Safeguarding
This week Mr Madriaga ran an assembly on how social media impacts on the language children use. It was a very powerful event and a good reminder to us all the laws around the use of social media.
KING'S ACADEMY RINGMER - JOB VACANCY
Environmental Project Manager and SLT Administration Assistant
14.8 hours per week - required to start asap - Permanent, TTO
Salary – KGA Pay Scale, Band 4, Points 4 to 6
Ie: £19280pa to £20512pa to be prorated
We are looking to recruit a passionate and committed Environmental Project Manager and SLT Administration Assistant for 14.8 hours per week (equivalent to 2 days a week), term-time only. To start on 1 September 2022.
The successful post holder will maintain and develop the school's excellent ECO and sustainability work and provide administrative support to the Senior Leadership Team.
King's Academy Ringmer is a rural comprehensive with an ethos of "In Pursuit of Excellence". We have a strong reputation for our inclusion, pastoral care and a rapidly improving trend of results in terms of student attainment and progress. In 2019, we were above national on P8, and we are forecasting a further improvement this year. The Academy is part of King's Group Academies whose mission is to equip all students with the confidence, knowledge, skills and values that will enable them to thrive in the modern world. We anticipate exciting developments ahead working together with students, parents/carers and the wider community to build upon our strengths and make this an outstanding school.
What can we offer you?
• A chance to be at the forefront of educational development.
• An Academy with a positive ethos, motivated students and focus upon learning
• Excellent induction, support and staff development opportunities
• A beautiful, rural environment situated approximately 12 miles from the coastal city of Brighton and Hove
For full details and an application form can be downloaded directly from our website: https://www.kgaringmer.uk/news/?pid=15&nid=2&storyid=4 or contact Amanda French on either 01273 815460 or amanda.french@kingsacademies.uk quoting job reference P/419. We offer a first class working environment with supportive colleagues and opportunities for career development.
King's Academy Ringmer is committed to safeguarding and promoting the welfare of children and young people and expects all staff and volunteers to share this commitment. All posts within our Multi Academy trust are exempt for the Rehabilitation of Offenders Act 1974 and therefore all applicants will be required to declare spent and unspent convictions, cautions and bind-overs, including those regarded as spent and complete an Enhanced Criminal Records Disclosure via the Disclosure and Barring Service (DBS)
Closing date for applications is Wednesday 13 July 2022 at 9am with the interview date is Friday 15 July 2022.
Have a great weekend!
Kind regards,

Sian Williams
Principal